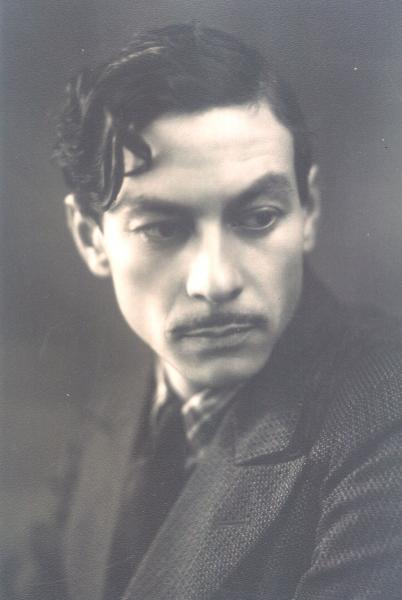 Nicholas Joseph Hubertus Levigne was born on September 30, 1905 as the only child of Nicholas Joseph Levigne and Elisabeth Ramakers.
At the age of 16, he worked at the Maastricht ceramic factory Société Céramique in the ceramic decorations department. In 1924 he was accepted as a student of Henri Jonas at the city arts institute in Maastricht and four years later he moved to Amsterdam for his further education at the State Academy of Fine Arts, and chose the graphics department because Levigne was a graphic artist in heart and soul.
In 1933 at the age of 28 he finished his studies and earned the silver medal of the Prix de Rome with the engraving of Peter the Fisherman.
He decided to return to Maastricht, where he married Margaret Johanna Goossens in 1935 and had five sons, two of them twins who died shortly after birth.
During the war years he was intensely engaged in the making of etchings, the so-called war series.
In 1950 Hub. Levigne was appointed professor of graphic design at the Jan van Eyck Academy in Maastricht. In these years his work was with woodcut. Woodcut is widely used in the 1950s by artists who pursued a new and strong expressiveness by using contrasts and gravity of the lines.
From 1963 Levigne worked again mainly in etchings with aquatint, a technique which offered more possibilities for applying shadows and atmosphere creating shades of grey rather than engraving.
The technique of etching with aquatint he had previously applied, during the last years of the war and liberation.
Now he explored the boundaries between figurative paintings and abstraction, and created dream worlds in black and white. The years 1965-1970 went intense fertile in terms of the graphic arts. In 1970, a large exhibition with the students of the Jan van Eyck Academie took place.
At age of almost sixty Levigne was able to renew himself.
He also expressed his new thoughts in other techniques, for example linocut where he could apply the heavy black lines just as in his woodcuts. He is also known for his lithographs.
The work of Levigne is spread all over the world and present in various museums in the Netherlands. And he recieved several internacional prizes.
From the thirties to the fifties, many ex-libris and occasional prints are produced by Levigne, almost all in copper. The wealth of symbols in his ex-libris and occasional prints is stunning only in the way he knows, how to organize them in a small plane and display. In the limited world of the ex-libris we find all aspects of graphic Levigne.
His work can be measured with the best in Europe, America and Australia. A large collection of his ex-libris and occasional graphics are in the Meermanno Museum in The Hague.
Hub Levigne was a versatile man not only the graphics, in which he excelled, but also in other matters such as stained-glass windows, murals, ceramic tile or tableau.
The contribution of Levigne to monumental art was limited to post-war period.
His first stained-glass windows he made between 1942-1944. Continuing for twenty years when he ended with church art. Although the monumental art after the war lost much of its originality and vitality. The contribution of Levigne may be mentioned especially important quantitatively but also qualitatively. The quality of the stained-glass windows are in a sense the same as his graphic work.
There are a large number of stained-glass windows known to be his in various churches in Limburg and other provinces of Holland also in individuals and public buildings. Other windows, St. Peters Episcopal Cathedral in Oakland (Calif.USA) which includes a window of 11m. high. Also the Cathedral of Samarinda (Indonesia). In the period from 1942 to 1952, he has designed and executed more than 120 stained-glass windows. Almost all of them were manufactured by the glazier company Gér. Mesterom in Bunde (Maastricht).
From 1932-1960 Hub Levigne has designed a number of 29 stamps for PTT, and many commemorative stamps. The seal is engraved on actual size, usually steel engraving. A craft that requires absolute concentration, because the engraver must be absolutely certain of each line or dot.
PTT recognized the craftsmanship of Levigne in a laboratory report in which a technical judgment about his way of working was pronounced. Levigne has contributed with exceptional craft skills to the Dutch postage stamp. The PTT Museum in The Hague has the designs, proofs and first editions of his stamps.
The Bible was during his last years from 1985 as a major topic in which he immersed himself. With more than 100 watercolors and a same amount of sketches we see depicted the history of the Bible figurative in miniature. After his 80 th birthday, the Bible Museum in Amsterdam organized an exhibition of his prints which he donated to the Museum after the exhibition. Also the Holy Land Foundation in Nijmegen has Biblical prints that he donated after another exhibition.
Until the end it was fine work that appealed to him most as a graphic artist.
Nicholas Joseph Hubertus Levigne died on December 29 of 1989 in Sittard.
At his funeral in the Kruisherenkerk in Maastricht a death board of 1,50 m high which he had painted during his life with symbolism, was placed according to an old custom on his coffin, with the date of his death and this text 'Today me tomorrow thou'